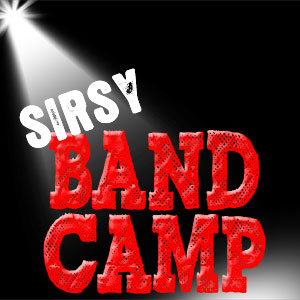 # 7
Sunday, October 1st!

SPOTS ARE RUNNING OUT!
SIGN UP HERE!



Play a little guitar? Sing in the shower? Expert pianist? Have a fever for more cowbell? Or enjoy the sounds of a sweet tambourine?
All are welcome at SIRSY BAND CAMP!
---
What is SIRSY BAND CAMP?
It's a 3 hour session during which a group of 16-20 people get together and play a song with SIRSY. We'll spend time arranging the song together, experimenting with different instruments, and jamming on the song. At the end of the session, we'll shoot a video of the whole group performing the song and post it on YouTube! You'll also get an mp3 of your performance! It's an opportunity to expand your musical horizons by playing with other people. You'll learn something and it's just plain fun! :)
Do I have to know how to play an instrument?
No. There will definitely be people there that play guitar, bass, piano, drums, and other instruments, but there's plenty of opportunity for people to sing, play percussion (like tambourine, shakers, etc.) as well as other fun things like the Kazoo.
When & where is it?
Band Camp #7 is Sunday, October 1st (4-7pm) in Clifton Park, NY
What song will we play?
You will have the chance to vote on a song once everyone is signed up!
How much is it?
$50/person
How many spots are available?
16-20, depending on the instrumentation.
What ages are welcome?
15 & up.
Still have more questions?
E-mail richard@sirsy.com