HI FRIENDS! BIG NEWS! :)
SIRSY SIGNS A RECORD DEAL!
MEL SIGNS RECORD DEAL!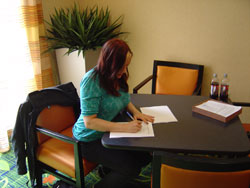 On March 23 of 2010 SIRSY signed a record deal with Funzalo Records.
SIRSY will be managed by Funzalo president Mike Lembo (Jules Shear, Stacey Earle & Mark Stuart, NRBQ, The Church, Died Pretty, North Mississippi Allstars, Cracker, The Bangles, Radiohead, No Doubt, + many more) and Jennifer Herold (Eve 6, Jefferson Starship, The Marshall Tucker Band, Pete Anderson, Dwight Yoakam, Everclear, Willy DeVille, Wayne Kramer, Collective Soul + more).
As you may know, SIRSY has been offered deals in the past. But we never got an offer from a company that we felt was the right fit for us. (Then again, we'd never met anyone from
Funzalo Records
before!) This company actually "gets us" (like a friend who finishes your sentences). With Funzalo Record's help, we will be able to reach a much bigger audience by increasing our geographical touring area, radio play, television and film placement, integral marketing and publicity. Funzalo Records is working with us to help us maintain our grass roots approach and our connection to YOU, our friends and fans.
RICH SIGNS RECORD DEAL!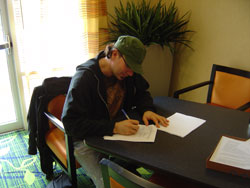 Funzalo Records will also be re-releasing the Revolution CD.
We will be re-mixing and re-mastering the CD, for a release in June or July. Revolution will be re-mixed by the legendary
Paul Kolderie
(Paul has produced Radiohead, Hole, The Dresden Dolls, The Pixies, Morphine, The Mighty Mighty Bosstones, Tracy Bonham, Uncle Tupelo, Dinosaur Jr., The Lemonheads + more).
_ _ _ _ _ _ _ _ _
JOIN US AT OUR OFFICIAL HOMETOWN CELEBRATION!
Fri 6/11: REVOLUTION HALL (TROY, NY) All-Ages. 7pm doors.
"SIRSY gets SIGNED CELEBRATION SHOW"
___________________________________________________
___________________________________________________